How to Win at the Oracle Licensing Game : Introducing ROCS
How
to
Win
at
the
Oracle
Licensing
Game
:
Introducing
ROCS
Posted by Marion Pertin on 2018:12:10 14:32:23
RENAPS'
Oracle
Compliance
Solution
Introducing ROCS
Posted by Marion Pertin on 2018:12:10 14:32:23
Oracle.
It's
the
world's
second
largest
software
company.
Its database is used by over 300,000 businesses around the world. It's indeed a software giant whose products are quasi indispensable to running a business.
As IT consultants, my company RENAPS has made a living selling Oracle licenses and helping organizations with their Oracle products. We are certified Oracle partners. We know the ins and outs of Oracle products and develop products and services to enable our clients to get the most from their Oracle environment.
Unless you are an expert, it's very easy to be misled by technology license agreements. Licensing complexity, subtle licensing rule changes or price increases, lack of clarity can all lead to non-compliance. In a large organization with multiple licenses, the risk of non-compliance is very high and can lead to serious penalties. In fact, our research uncovered 90% Oracle non-compliance in the cases we examined. (Thankfully, we uncovered these non-compliance cases before they turned into costly non-compliance penalties. Others have not been that lucky.)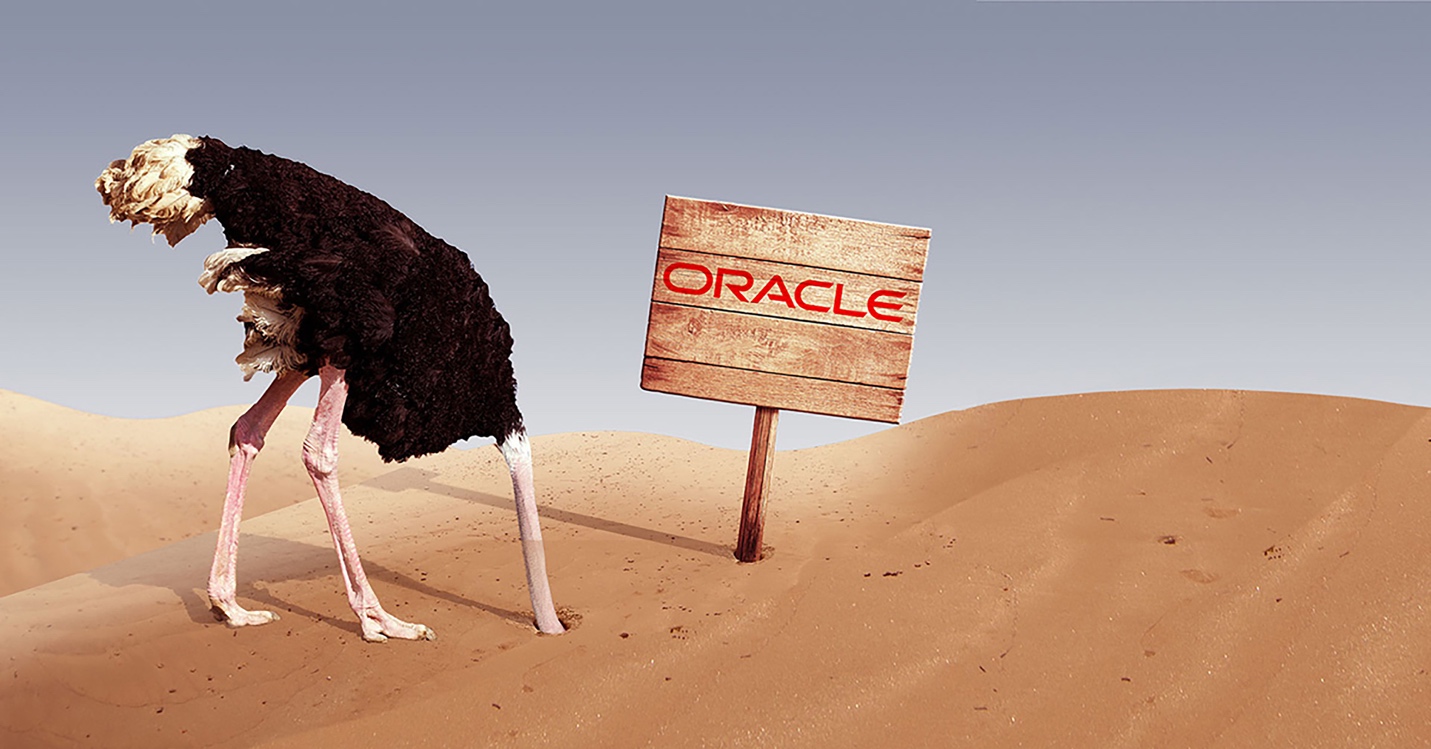 Don't be caught with your head in the sand
In order to help organizations reach optimal usage of their Oracle licenses and be compliant, we have developed an offer combining software and service. We call it ROCS: RENAPS Oracle Compliance Solution. It's the only Oracle Compliance offer that combines both services and sophisticated software. You can learn more about it here.
The objective is to reach a state where your organization is both Oracle compliant and optimizing its Oracle resources.

Our 9 question Oracle Risk Assessment survey will give you instant insight into your compliance risk level. Simply fill out the form and you'll receive your risk assessment results.
If you are an IT manager, here are some points to keep in mind:
Are you under-utilizing your Oracle Licenses?
Are there opportunities to reduce your Oracle recurring support costs?
On the flip side, are you certain to be compliant?
Are your DBAs using options that are not part of your license grants? (such as the Compress option of the Oracle Export)
Are you up to date with the latest Oracle Licensing Rules changes?
If you are concerned about compliance and the risks associated with it I encourage you to ponder these questions.
Your organization already invests so much into Oracle software assets, why not make sure you are getting the most out of your licenses all while being compliant?
Posted by Marion Pertin on 2018:12:10 14:32:23