Oracle Forms & Reports HUB PAGE
Oracle Forms & Oracle Database
Upgrades & Migrations
Maximize your technology output with ORMIT™ - our proprietary suite of tools for technology migration & updates.
Forms
&
Reports
product
suite
The
ORMIT™
advantage
SIGNIFICANT TIME SAVINGS
50%
ORMIT's delivers an automated migration or upgrade in 50% to 90% less time than a manual upgrade.
CLEANER CODE, LIGHTER APPLICATION
0%
ORMIT™ deletes unused objects and consolidates redundant ones leaving you with a lighter, faster application
TAILORED SUPPORT & GUIDANCE
0+
RENAPS' Center of Excellence is comprise of individuals with industry experience and Oracle Expertise. They will guide you through the migration process from setup to the final delivery
The
ORMIT™
Migration
Process

1. X-Ray Scan
• X-Ray Scan of all modules: Forms, Reports, PLLs, Object Libraries.

2. Pre-Migration Analysis
• Determine migration order and strategy.
• Identify all object dependencies.
• Check source code quality and dead code.

3.Simulation
• Scope & budget estimation.
• Identify other automation opportunities.

4. Migration Launch
• Automated Data Model, Business Logic and User Interface migration process initiated by ORMIT™.

5. Manual Intervention
• QA of automation process.
• Manual customization & fixes.

6. Delivery
• Successful Migration delivered on time and on budget .
• You are now In line with Oracle recommended best practices.
The
most
complete
Oracle
Forms&Reports
and
Oracle
Database
Solution
Portfolio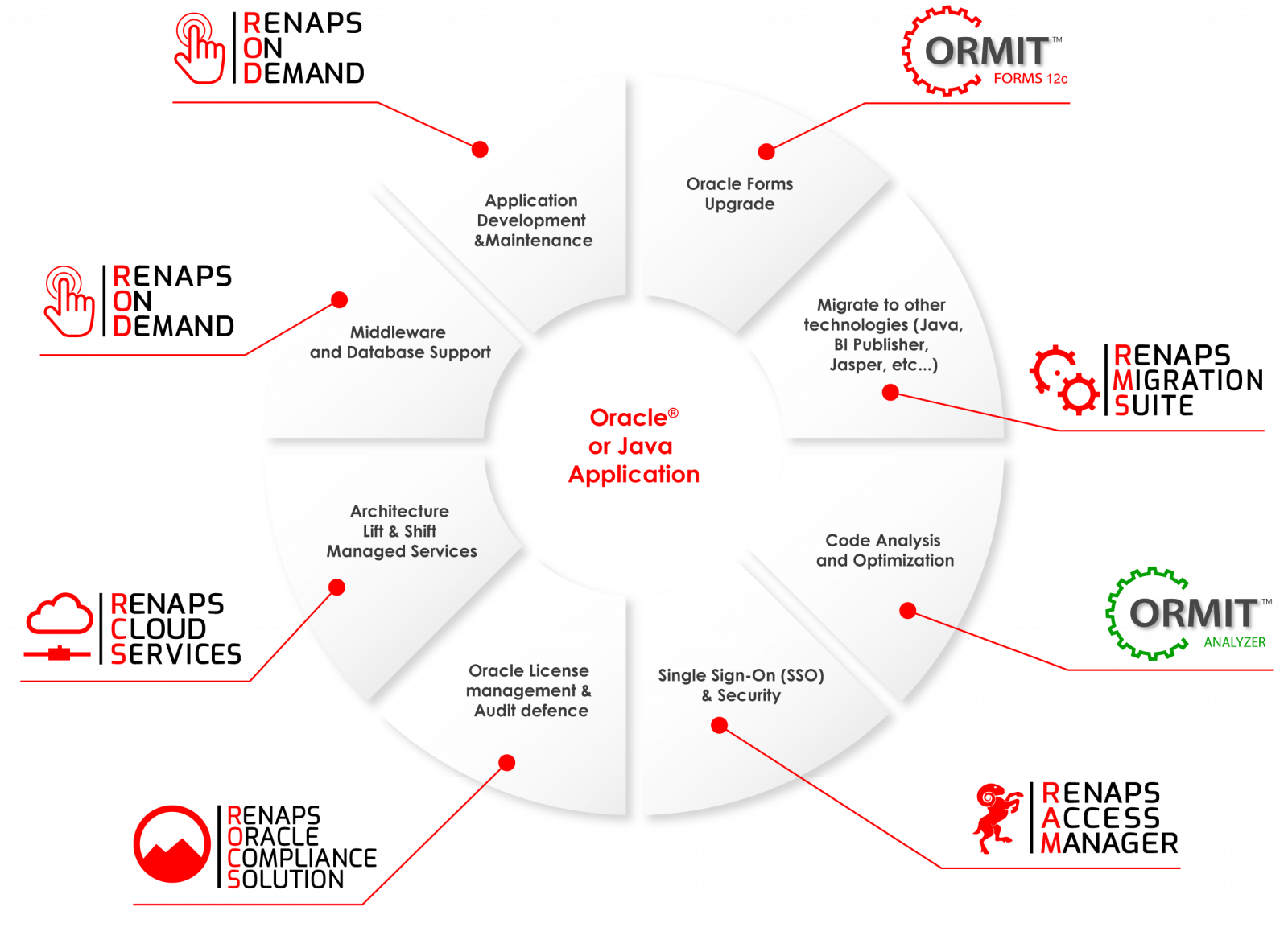 Forms SSH: The only secure shell designed for Oracle Forms
Oracle Forms Browser compatible
FormsSSH PL-SQL Library included
FormsSSH Complete Javascript Source Code included
Quick implementation service

Why
RENAPS
?
With more than 20 years of experience, RENAPS has positioned itself as a trusted partner of many high profile brands. Our unparalleled knowledge of Oracle Forms & Reports make us the ideal partner