ORMIT™-Jasper: Migrate from Oracle Reports to JasperReports
Oracle
Repprts
to
Jasper
Reports
Migration
The
ORMIT™
Jasper
advantage
SIGNIFICANT COST SAVINGS
0%+
ORMIT's delivers an automated migration or upgrade that can cost up to 90% less time than a manual upgrade.
ELIMINATES RISKS
0%
RENAPS ORMIT™ Jasper eliminates all migration risks associated with a manual migration
CLEANER MAINTAINABLE CODE
0%
ORMIT™ Jasper improves code quality and maintainability, thus paves the way for even more savings over time.
NO VENDOR LOCKINS
0%
100% Open source: no licensing, support fees, or vendor lock-ins will ever apply to your migrated reports.
Why
Migrate
Oracle
Reports
to
Jasper
Reports
now
?
"Oracle Reports has reached end of life. Extended support for Oracle Reports 12c R2 will be available till October 2023."
– Oracle Fusion Middleware Release Notes (Source here)
Why
should
I
migrate
Oracle
Reports
to
Jasper
Reports
instead
of
BI
Publisher?

JasperReports is the Most popular Open-Source Reporting Framework

No cumbersome licensing or support fees

JasperReports can be also used outside of pure Java application development

Active user community that consistently provides updates & patches

Stay supported, prevent deprecation

Wide industry adoption

Lower risk of obsolescence

Based on Java, the third most popular programming language

Better maintainability and flexible components
Why
is
ORMIT™
Jasper
the
most
cost
effective
solution
on
the
market
?
Why is ORMIT™ Jasper the most cost effective Oracle Reports migration solution on the market ?
Migration project timeline
Want
to
see
ORMIT™
Jasper
in
action
?
What
is
included
with
ORMIT™-Jasper?
ORMIT™-Jasper is an automated migration solution which offers the following benefits:
Automated Reports (.rdf) analysis

X-Ray scan of Oracle Reports

Object count analysis

Unused objects (dead-code) & redundant code analysis

Business logic distribution analysis

Source code quality & dependencies analysis

Runtime references analysis

Code clean up & migration preparation

Data model & Layout automated migration

JasperReports reports testing & deployment

A detailed roadmap for JasperReports® migration

A modernization assessment study

Existing jasper reports functional and technical improvements

Automated Migration
ORMIT-Jasper makes it easy to migrate from Oracle Reports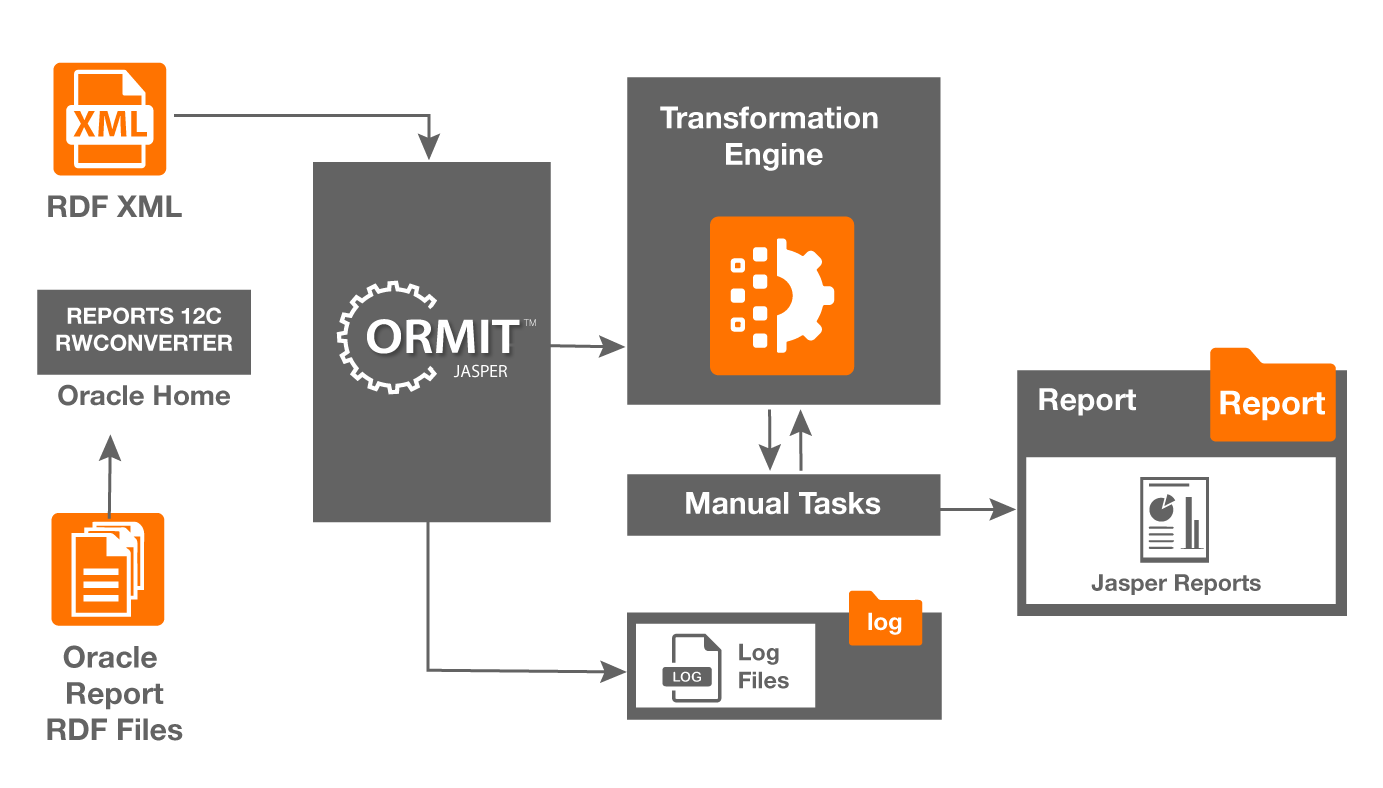 Breaking
free
from
Oracle?
Meet
the
ORMIT™
Products
Migration
Suite
Why
Renaps?
With more than 20 years of experience, RENAPS has positioned itself as a trusted partner of many high profile brands. Our unparalleled knowledge of the ins and outs of Oracle products make us the ideal partner to help you make the most of your Oracle systems.