RAM: Access Manager for Oracle Forms & Reports, Oracle JET and Oracle BI Publisher
RAM:
SSO
Access
Manager
for
Oracle
(Forms
&
Reports,
JET,
BI
Publisher)
Java
&
NodeJS
applications
Posted by Patrick Hamou on 2019:03:15 21:04:56
RENAPS has helped clients navigate their Oracle environments for the last 15+ years thanks to our strong relationship with Oracle and our unparalleled knowledge of their products.
RAM, our latest product, is a light, elegant and powerful access management solution for Oracle Forms and Reports, JET and BI publisher SSO integration.
Why did we create RAM? For increased security, productivity and Savings.

Security
User login and password management systems are key to your company's security, this is an undisputable fact. Without a proper user access management solution, large organizations are vulnerable to cyber threats. In fact, most cyber security breaches originate from password mismanagement.
Oracle products especially benefit from such password solutions since many Oracle application users work remotely, from different workstations and need to log in and out frequently.
Unfortunately, the current Oracle access management solution, OAM, is bulky and so complex that the prospect of implementing it has become overwhelming for IT managers.
If your organization uses Forms & Reports this isn't revelatory. Our solution, RENAPS Access Management (RAM) however, will be.
Productivity & Savings
Access management solutions lead to direct increases in productivity.
Research has shown that each employee loses the equivalent of $420 a year on password related issues. If you factor in helpdesk costs, you start to see the significant impact on productivity and your bottom line.
Our savings calculator can tell you how much your organization stands to save with RAM. You can try it here.
Htmlarea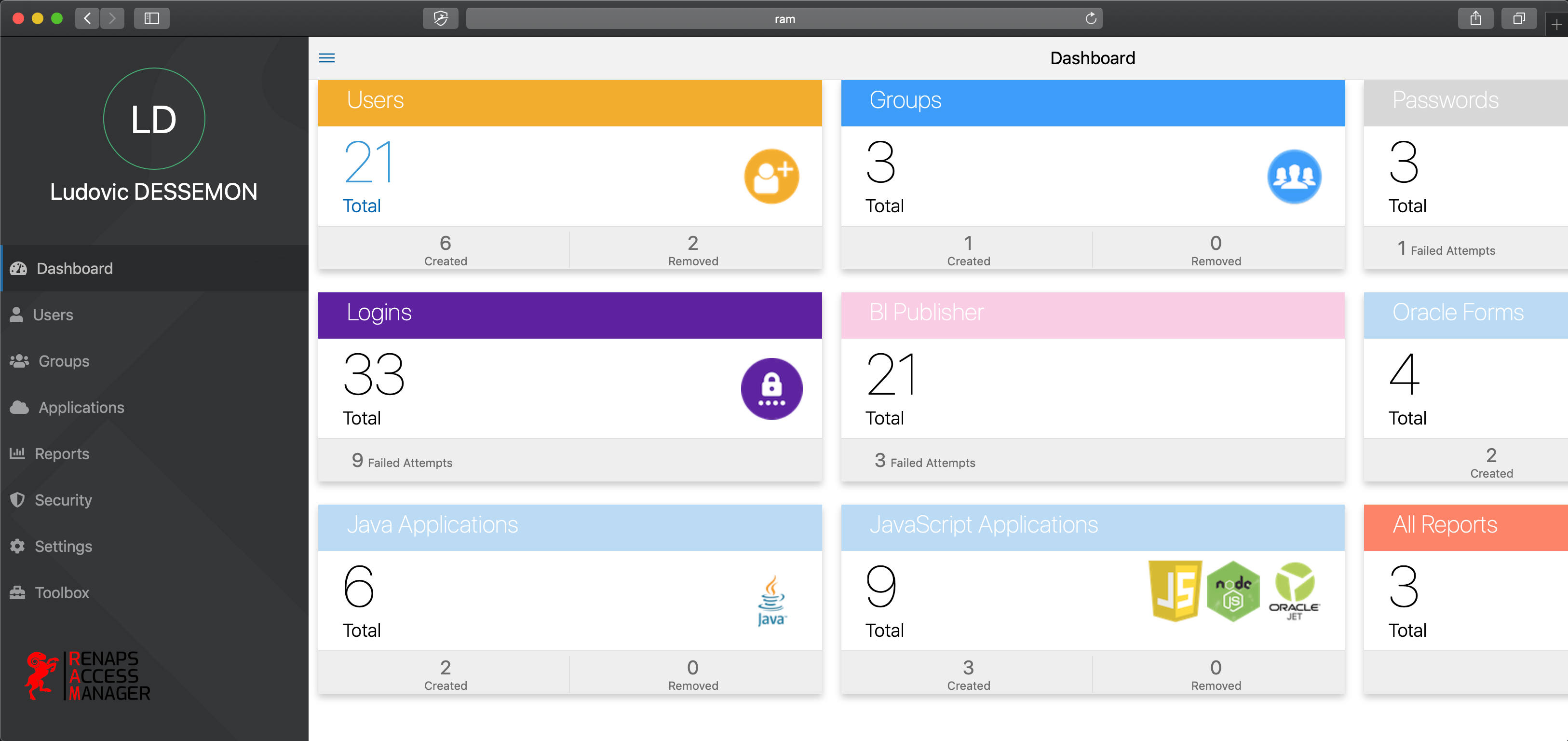 Features
Here is how RAM will make your life easier and increase your company's productivity and profits:
It's Custom built – RAM is the only access management solution specifically built for Oracle Forms & Reports, BI Publisher and Oracle JET.
It's lightning fast - RAM can be deployed in a high availability cluster configuration and be operational within an hour.
It's Forms browserless mode (FSAL) compatible - RAM enables single sign-on to Windows to get automatic access to Oracle Forms in both browser or browserless (FSAL) modes.
It enhances security - with a real time dashboard, automated password resets and blocking of suspicious activity.
RAM is now open to other Oracle applications through the standard SDK.
You can find additional information and technical specifications on RAM here. RENAPS is currently offering a free trial of RAM and would love to talk about how this solution can help your organization increase employee productivity and stem losses.
RAM vs OAM : More functionality & less complexity
We've analyzed Oracle's own access management solution OAM, we've listened to clients tell us how intimidating, bulky and heavy it is. We've seen IT managers stop using OAM simply because the access management solution would be too costly to manage both in time and resources.
With RAM we've developed a custom, easy to use and nimble solution with more functionality and less complexity than OAM.
| Feature | RENAPS Access Manager (RAM) | Oracle Access Management (OAM) |
| --- | --- | --- |
| Oracle Forms (browser) | | |
| Installation and Administration | | Complex |
| Oracle BI Publisher | | Complex |
| Requirements | | Complex |
| Dashboard Analytics | | Not Supported |
| Oracle Forms Browser-less (FSAL) | | Not Supported |
Posted by Patrick Hamou on 2019:03:15 21:04:56