Oracle Cloud Accelerates Expansion
Oracle
Cloud
Accelerates
Expansion
to
Bring
Infrastructure
to
Customers
Globally
Posted by Patrick Hamou on 2019:09:12 15:08:06
Oracle expects to open an average of one region every 23 days over the next 15 months for a total of 20 additional regions (17 commercial and three government). As planned, 11 of the countries or jurisdictions served by local cloud regions will have two or more regions to facilitate in-country or in-jurisdiction disaster recovery capabilities. Oracle's Gen 2 Cloud Infrastructure makes this possible through highly-optimized region deployment technologies, which can implement an entire software defined data center and customer-facing cloud services in days.
Over the past months, we (Renaps) have a lot of discussions with our customers on Oracle Cloud.
A lot of interests but a main concern regarding the Data Residency in Canada with a location preference for Montreal.
Some customers have their on-premise systems in Toronto. Using the Oracle Cloud for a disaster recovery scenario will be considered only if Oracle owns a datacenter in Canada elsewhere than in Toronto. Montreal will enable this use case.
Some of our Quebec's customers are interested to move their Oracle database systems to the Cloud in Montreal. With this new location, why still considering moving an Oracle Database to AWS or Azure while you can have an Autonomous version for a lower price and by the way leveraging the Oracle Cloud Infrastructure (OCI) for extending your on-premise networks to the Cloud ? OCI is the door to a World-Wide network in a seconds.
According to the Gartner, the Future of Database Management Systems is Cloud, and Oracle is still the number 1 in this category.
Cloud is now the default platform for managing data. On-premises is the past, and only legacy compatibility or special requirements should keep you there.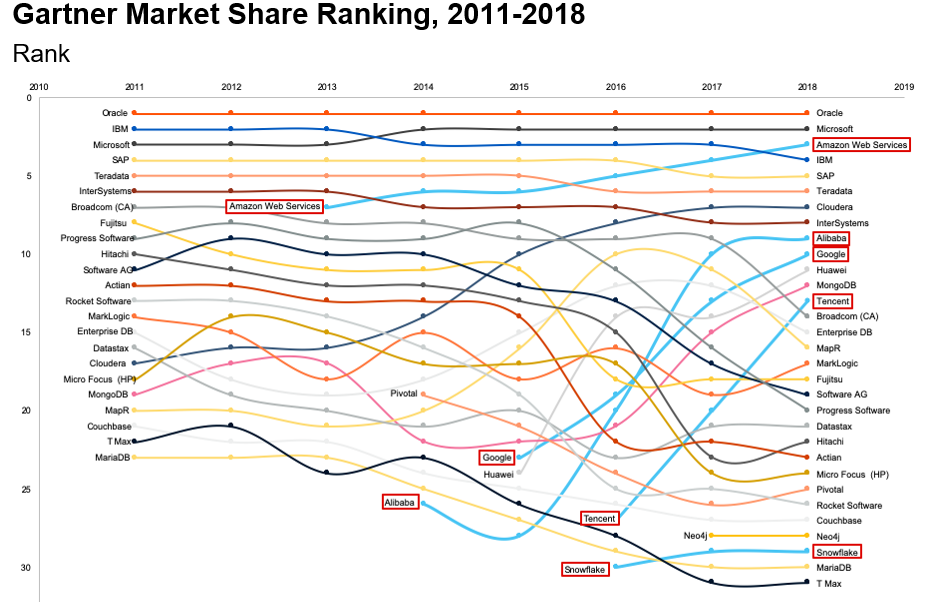 Oracle Autonomous Database is the world's first autonomous data management in the cloud to deliver automated patching, upgrades, and tuning—including performing all routine database maintenance tasks while the system is running—without human intervention. This new autonomous database is self-driving, self-securing, and self-repairing, which helps to eliminate manual database management and human errors.
Businesses will find that the autonomous capabilities can speed up their products time to market with a lower global cost. Companies will benefit from the use of machine learning and automation to eliminate complexity, human error, and manual management, helping to ensure higher reliability, security, and more operational efficiency.
Why spending days (weeks for some organizations) for building a database systems that will need a huge volume of man-days for trying to keep it secure and well tuned ? the ultimate consequence of this is a financial hole just only for installing, tuning, administrating, patching, backing up, migrating to the new releases, … of a complex system and not free from human errors.
To the DBAs, do you have to see this innovative database as a job killer ? Absolutely not. You can now expand your responsibilities to cover more high value areas or specialize in areas with higher business value. Every DBA Needs to Understand the Impacts of Oracle Autonomous Database
Need some advice and helps ? Leverage the agility, flexibility & speed of the Oracle Cloud with RENAPS' expert guidance, implementation support & managed services.
We can demonstrate why you should moving to the Oracle Autonomous Database Cloud, whoever you are.
| Oracle Cloud Infrastructure 2018 Certified Architect Associate | Oracle Autonomous Database Cloud 2019 Certified Specialist |
| --- | --- |
| | |
| x 1 | x 2 |
Some additional readings :
Larry Ellison On The Main Reason You Need An 'Autonomous Cloud'—Data Security
Posted by Patrick Hamou on 2019:09:12 15:08:06